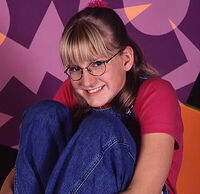 Zoe Isabelle Costello (born January 31, 1987) was a cast member on the seasons 1 and 2 of ZOOM.
Description
Edit
Zoe lives a quiet life in Brooklyn, New York. She was born in Andover, Massachusetts.
Outfits she wore on ZOOM
Edit
Zoe wore a plaid dress shirt over a purple t-shirt. She wore a Black Shirt over a White top during the "Language Nursery" Credits.
Zoe wore a pink t-shirt and blue overalls with pink flowers embroidered.
In the introduction of the revived version of ZOOM, she was the first ZOOMer to introduce herself.
Zoe was the First ZOOMer to appear on Screen.
Zoe appeared in seasons 1 and 2 of the revived version of the show.
Zoe is allergic to latex. She couldn't participate in any games on ZOOM that involved latex.
One time, Zoe wore a red sweater jacket while playing Rhyme Time, a ZOOM game from season 2.
During her time on ZOOM Zoe had to take her glasses off during a sleepover skit with Caroline and when she had to dip her head into the water in the ZOOM game "Bobbing for Apples", and also in the season 2 game "Pick Up the Quarter".
Zoe, Caroline, Lynese, Aline, Kaleigh, Shing Ying, Cara and Keiko are the only original cast members who wore overalls on ZOOM.
Zoe attended NYU with her former co-star Alisa Besher. She now works as a producer.
Zoe is from an Irish or Italian family.
Zoe wears contacts now. She often wears her glasses. Zoe is the first cast member from ZOOM to wear glasses. The others were Mike Hansen, who wore glasses in season 6 along with Maya Morales. However, Mike didn't wear glasses in season 5, which was his first season on the show.
In Season 2, Zoe's hair has pigtails that looked like Angelica from "Rugrats".
Zoe does the Clubbi Dubbi Workout Video.
Zoe had one older sister is with Alexandra Jane Costello, who now works as a homemaker.
Zoe's parents are Antoinette Marion Costello and Alexander Steven Costello.
External Links
Edit
Community content is available under
CC-BY-SA
unless otherwise noted.