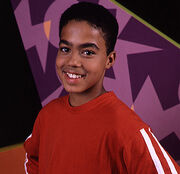 Raymond J. Filmore (born November 5, 1986) is a former ZOOMer from the show was in season 2 of the revived version of the PBS show ZOOM.
Description
[
]
Hi, I'm Ray. I love to ride horses, and I've gone on a big adventure as part of a team that herded horses over the open range. During the summer, I sail and windsurf at camp. My favorite ZOOMactivities are the CafeZOOM Cranberry Sherbet and the ZOOMsci Rube Goldberg Invention. My favorite part of this site is Behind the Scenes Snaps. Check out all of the funny pictures of us! The best thing about being on ZOOM? Being in the studio and having fun in the ZOOMroom with the other ZOOMers.
I don't think being on ZOOM has changed me much, but I really appreciate all the friends I've made on the show. Most people don't treat me any differently, but some kids act in awe of me sometimes, so I try to show them that I'm a friendly person.
In twenty years, I think I'll look back on my ZOOM experience and feel that it was a GREAT opportunity to share fun with a big audience and to learn more about making TV.
And to all of the ZOOMers out there: After you enjoy our show, don't forget to turn off the TV and do it!
Ray Quotes
[
]
"I love sports and acting.
"I love to go rock climbing.
Trivia
[
]
Ray wore a long sleeved red shirt with white stripes on the sleeves when he appeared on the show's 2nd season.
Growing up at home, he had one brother that was three years older than him.
All he needs is this Ubbi Dubbi Breath Spray.
Gallery
[
]