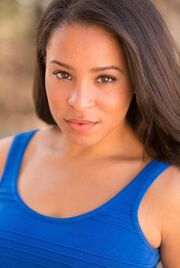 Maya Blanca Morales (born July 13, 1992) is a former ZOOMer who appeared on the show for the season 6 of the revived version of ZOOM.
When Maya was on the show, she wore a yellow t-shirt with a pineapple embroidered at the top.
Growing up at home, she had one younger sister.
Maya was the second ZOOM girl to wear glasses; the first was Zoe Costello.

Today, she is seen with without glasses.