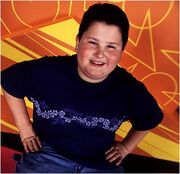 Kevin Francis Barrette (born July 27, 1989 in Worcester, Massachusetts) is a former ZOOMer from the show was in season 3 of the revived version of ZOOM. He goes by "Buzz" as his nickname.
Description
[
]
My real name is Kevin, but people call me Buzz because I always used to have a buzz haircut. Most people who know me think I'm caring, funny and observant. I live with my mom, my dad, and my sister. When I'm not working on ZOOM, I love to do ZOOMactivities at home and play games like Crab Soccer.
I also like to be with my family and friends. They are so cool! Because I love solving math problems, my favorite school subject is math. But I like to read, too. I'd give the book "Holes" all toes up! What are some of your favorite books?
On the ZOOMset, I'm famous for doing impressions of people, especially the other ZOOMers. At home, I'm famous for falling asleep in the car and talking in my sleep! My favorite ZOOM activities are ZOOMsci and ZOOMzingers, and I love to play the ZOOMer 101 Quiz on the ZOOM Web site.
And to all the ZOOMers out there: Thanks for watching the show. Remember, you can be anything you want!
I'm here for the Ubbi Dubbi Game Show!
Schools
[
]
Graduate of Auburn High School Class of '07
Boston University Class of '11
Boston University School of Medicine '15
Buzz Quotes
[
]
I most admire my mom, because she's so caring.
I'd like to visit Hawaii someday.
Welcome to the Ubbi Dubbi Game Show.
A-HA!
Trivia
[
]
Born to Kevin and Lynn Barrette, he has one older sister named Michaela (born 1988).
Even though Buzz only appeared for the 3rd season of ZOOM, he came back for a special episode titled "ZOOM: America's Kids Remember".

He already knew Caroline, Eric, Kenny, Rachel and Kaleigh from the 3rd season he made his appearance on; but after he left the for the show's 3rd season, he never met Aline Barta and Alisa Besher but did on the special episode.
He's hosting the Ubbi Dubbi Game Show.
He sleeps in bed while the ZOOMers are singing Are You Sleeping? in Ubbi Dubbi.
Buzz became of his psychiatrist and became involved with the fur psychiatry department Stanford University.
Gallery
[
]