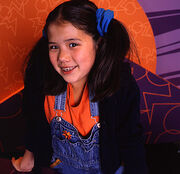 Keiko Lauren Yoshida (born June 11, 1984) is a former ZOOMer from the show was in season 1 of the revived version of ZOOM.
Keiko's name means "Lucky" in Japanese.
Keiko was born in Andover, Massachusetts.
Keiko is of Japanese descent.
Keiko wore braces while she was on ZOOM.
One time, Keiko teamed up with Caroline Botelho in a ZOOM Do segment on how to make dream catchers.
During her only season, Keiko wore a navy blue hooded sweater jacket over an orange t-shirt and blue overalls.
Keiko had one older brother is with Christopher Paul Yoshida.
Keiko had her parents is with Sarah Quimby Yoshida and David Roy Yoshida.
Keiko had her husband is with Todd J. Mathewson.
Keiko started coughing when Alisa has Ubbi Dubbi Cough Drops.
Community content is available under
CC-BY-SA
unless otherwise noted.