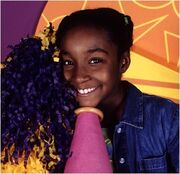 Frances Domond (born March 26, 1989) is a former ZOOMer for the show was in season 3 of the revival version of the PBS show on ZOOM.
Description
[
]
I think other ZOOMers would describe me as multi-talented, energetic and stylish. I would add in hyper and short, too! My favorite hobby? Swimming! My favorite game? Yahtzee! I live with my mom and my little two-year-old sister, who gave me my nickname "Cesces," which is how she said my name when she was first learning.
On the ZOOMset, I'm famous for making up lots of dance routines. So, you can see why Behind the Scenes Music is my favorite part of the ZOOM Web site. Some of the funny things that have happened to me while making ZOOM are all of the times I forgot my lines! But the weirdest thing was playing a cat for the ZOOM playhouse Mixed up Fairy Tales.
Frances Quotes
[
]
Art is my favorite school subject.
I love Chinese food.
I had this Ubbi Dubbi Jump Rope.
I use a baton to conduct the ZOOM Orchestra.
And to all the ZOOMers out there: THANKS for Watching!
Trivia
[
]
When Frances was on the show, she wore a short sleeved navy blue denim jacket over a green t-shirt with some flowers embroidered.
Frances never met Pablo Velez Jr. on the set of ZOOM because he left after the show's 1st season. But the 2 would meet up for the first time in a ZOOM reunion PSA video alongside with Eric Rollins and Kenny Yates.
Frances is using this Ubbi Dubbi Jump Rope.
Frances uses a baton to conduct the ZOOM Orchestra.
Gallery
[
]
Then
[
]
Now
[
]