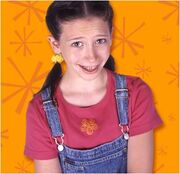 Cara E. Harvey (born 1990) is a former ZOOMer from the season 6 of the revived version of ZOOM.
The outfit that Cara wore for season 6 looked similar to what Zoe Costello wore for season 2. In the Fannee Doolee segments, she wore a white and orange striped t-shirt along with her blue overalls.
Growing up at home, Cara had four older brothers and a dog named Popeye.